Submitting details.
Please wait ...
Distributed free to mining sites, company HQs and local businesses throughout the Goldfields, the WA Mining Map is a popular product. Sized at 1000mm x 700mm it's a favourite of mine site managers and executives based in Perth, Kalgoorlie and mine sites throughout WA.
The map includes WA mine sites plus offshore oil and gas rigs, providing valuable information at a glance.
Featuring over 40 advertising spaces, this is a unique way to present your products and services to key decision makers in the mining industry, who receive this FREE very year.
Limited spaces available, so reserve your spot now!
Download or view the Mining Map in PDF Reserve My Spot
The Bigger Your Ad the Greater Your Impact
With limited spaces available, bigger is better when it comes to your Ad. There are 5 Ad sizes to choose from, so remember
The bigger your ad, the greater the impact
The bigger your ad, the bigger you appear to be
The bigger your ad, the more you can say
2021 WA Mining Map advertising rates
Unit C1
115mm x 200mm (WxH)
$3,298 + GST
Unit C2
105mm x 130mm (WxH)
$1,950 + GST
Unit C3
105mm x 125mm (WxH)
$975 + GST
Unit C4
55mm x 155mm (WxH)
$1204 + GST
Unit C5
159mm x 40mm (WxH)
$1075 + GST
Unit C6
115mm x 60mm (WxH)
$1075 + GST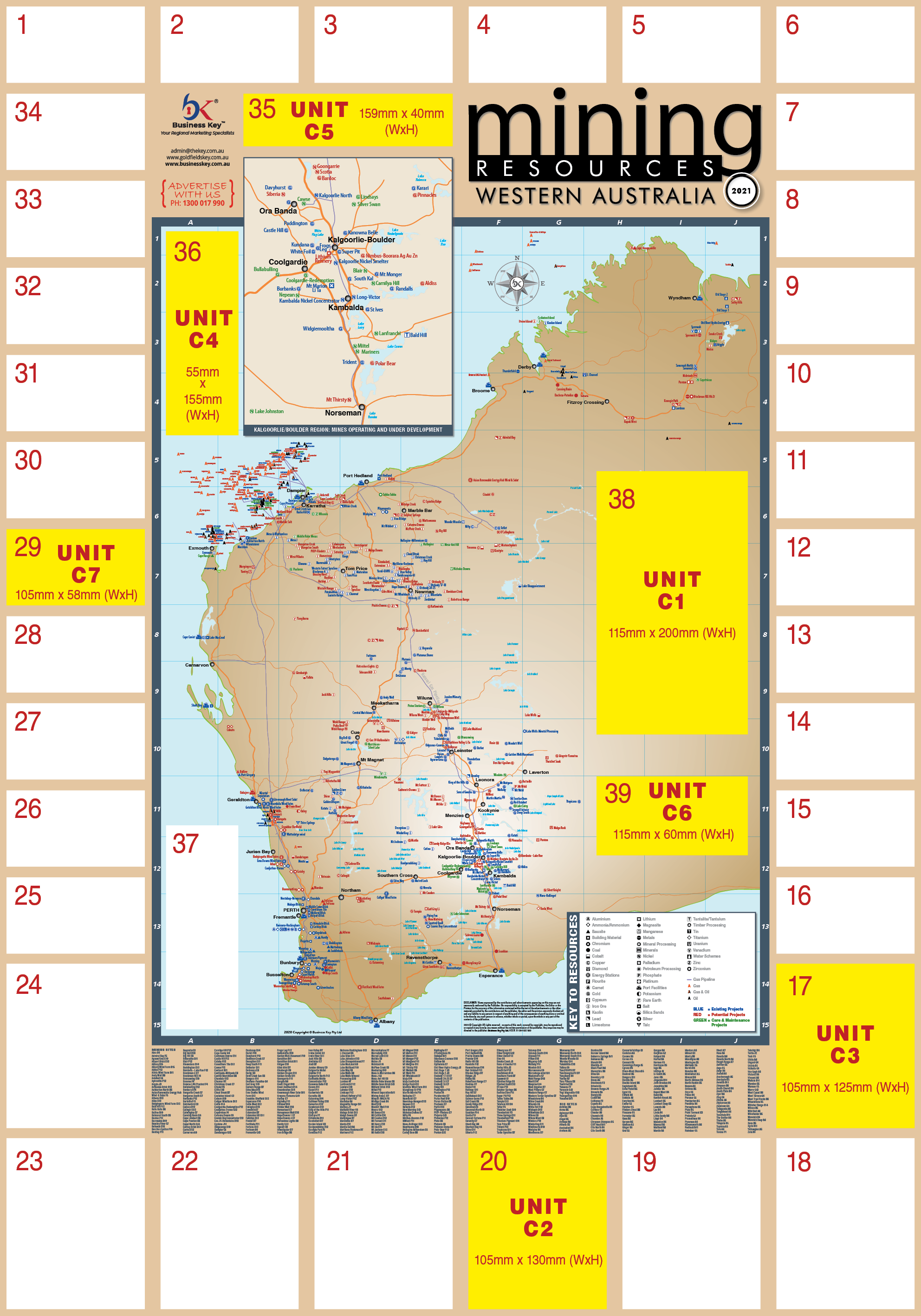 How To Provide Artwork For Advertising
Please provide artwork as a high resolution pdf (300dpi minimum) with fonts embedded.
| Advertising Unit Reference | Recommendations for Artwork |
| --- | --- |
| C1 | 115mm x 200mm (WxH) no crop marks or bleed are necessary |
| C2 | 105mm x 130mm (WxH) no crop marks or bleed are necessary |
| C3 | 105mm x 125mm (WxH) no crop marks or bleed are necessary |
| C4 | 55mm x 155mm (WxH) no crop marks or bleed are necessary |
| C5 | 159mm x 40mm (WxH) no crop marks or bleed are necessary |
| C6 | 115mm x 60mm (WxH) no crop marks or bleed are necessary |