Our Story 
New Hong Kong Chinese Restaurant started operating in 1989. Since then, we have been serving Chinese cuisines at the most reasonable prices around Kalgoorlie. With a well-curated menu, you can enjoy the best choices of authentic Chinese dishes made fresh and flavourful.
What We Do
Enjoy New Hong Kong Chinese Restaurant's signature Chinese dishes made by our experienced chef. From your favourite serve of noodle and soups, palatable entrees, appetising main dishes, and other Chinese cuisine favourites, we offer you a variety of savoury flavours that packs up a punch after every bite. We also offer complimentary drinks to quench your thirst after eating such delectable dishes.
Whether you're looking for different dishes – like vegetable fried rice, chicken chow ho fun, king prawn omelette, curry vegetables, duck in Peking sauce, chilli with your choice of meat - set menus, or a variety of combinations and main dishes, this restaurant has exactly what you're looking for.
Why choose New Hong Kong Chinese Restaurant?
Craving for an order of satay sticks? Perhaps that sumptuous Chow Mein or Chop Suey that really hits the spot on your appetite? Or, maybe some steamed BBQ pork buns? New Hong Kong Chinese Restaurant can satisfy your Chinese cravings with our flavourful menu. 
As one of the oldest Chinese food restaurant in Kalgoorlie, we know how to be innovative with our food that makes customers return for more.
Looking for authentic Chinese cuisine takeaways? Order at New Hong Kong Chinese Restaurant now!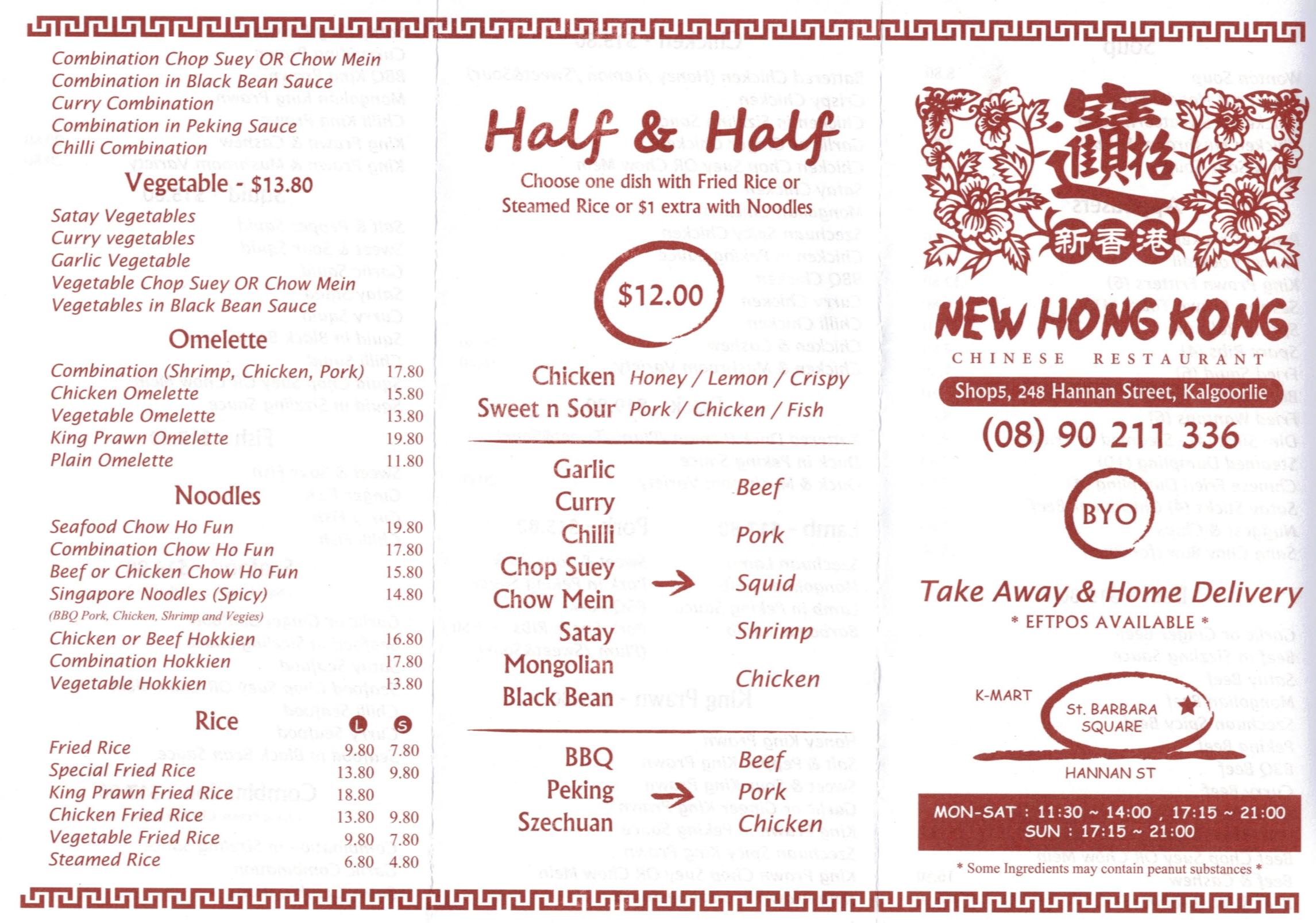 Details
| | |
| --- | --- |
| Category | Restaurants |
| Promotional Feature | Enjoy New Hong Kong Chinese Restaurant's signature Chinese dishes made by their experienced chef. From your favourite serve of noodle and soups, palatable entrees, appetising main dishes, and other Chinese cuisine favourites. They also offer complimentary drinks to quench your thirst after eating such delectable dishes. |
| Benefit Checklist | Made by an Experienced Chef |
| Localities | Kalgoorlie-Boulder |
| Keywords | chinese restaurant kalgoorlie, chinese takeaway kalgoorlie, takeaway food kalgoorlie, chinese food kalgoorlie, chinese cuisine, chinese traditional food, new hong kong chinese restaurant kalgoorlie delivery menu |